The first sailboat in the Allures Yachting range
A PERFORMANCE SAILING BOAT
The qualities of the
Allures 40.9
are based on many years of experience and innovation that have shaped the DNA of the Allures Yachting yard. Starting with our patented technology that combines the performance of composite superstructures with the safety of aluminium hulls, which has become the trademark of Allures yachts today. Our partners, the naval architecture team at Berret-Racoupeau, have created a modern hull by adding to the solidity of the aluminium with beam, power and maximum length at the waterline. Thus more efficient, the Allures 40.9 is free to take you quickly to the far side of the world. From slipping along under trade winds to reach paradise islands, to wandering through the fjords of Scandinavia, there are many sailing experiences to choose from. Its large charging capacity and large diesel tank also ensure a perfect autonomy that will give you even more freedom.
A centreboarder with aluminium hull, ease of handling, efficiency, twin helms, visibility from the saloon, profiled appendages, large storage volumes, technical room, separate shower, double chart table, sugarscoop lockers, saloon with sea view… All designed to provide you with absolute comfort whether under way or at anchor.
As a guarantee of safety, reefing is carried out from the cockpit. Spacious and deep, it offers optimum ergonomics, both at anchor and for sail handling and trimming. The location of the winches makes it possible to position yourself perfectly, whatever the sea state.
But the Allures 40.9 is not just an ergonomic yacht that makes sailing easier, it is also an elegant sailboat with exceptional lines and a great design both inside and out.
Key elements of the specifications
FROM POLAR EXPLORATION TO THE TROPICS
Centreboard for freedom
--------------------
Twin rudders for stability and control
--------------------
Ergonomic cockpit for long distance
Forward and side windows provide exceptional light and 270° visibility
--------------------
High-end interior design for an enjoyable life on board at anchor and a functional one at sea
--------------------
Large storage capacity for self-sufficiency
Aluminium hull for unsurpassed impact resistance
--------------------
Watertight forward bulkhead in aluminium
--------------------
All sail handling manoeuvres led back to the cockpit
Composite deck for its ergonomics, lightness, insulating properties
--------------------
Wide, load-carrying hull for stability and performance
--------------------
Aluminium rear arch to optimize peripherals: antennas, solar, dinghy
--------------------
Modern rigging for performance and ease
A centreboarder, to allow you to go further: the board casing is perfectly integrated into the interior layout, allowing a smooth and pleasant flow through the saloon.
Aesthetics is an integral part of the journey, which is why the designers have worked on the harmony of shapes and colours, combining style and efficiency. Isabelle Racoupeau designed especially for the Allures 40.9 an innovative design, highlighted by clear shades and discreet LED lighting. The interior space has been optimally worked to make life on board practical and your sailing as pleasant as possible. The interior furniture has been designed with noble and resistant materials such as stainless steel.
Comfortable and bright, the Allures 40.9's saloon and cabins are designed to offer a pleasant and friendly living environment while being functional at sea. The galley, with its refrigerator with drawers and generous worktop, is perfectly suited for practical use when under way. The numerous storage spaces will facilitate the stowage of supplies for longer cruises. From the descent to the forward cabin, the many handrails facilitate moving around, both at sea and at anchor.
This serenity is even more evident inside. Bringing together all the essential functions in a 40.9 feet was a challenge. The success is that this is immediately forgotten once you've gone through the companionway.
An aluminium hulled centreboarder with a composite superstructure. The result of strict specifications, drawn up thanks to the feedback of many circumnavigators, this unit combines all the characteristics of a true blue water sailing boat.
You will be able to carry out all the manoeuvres safely from the cockpit, without excessive effort thanks to the ergonomic design of the deck layout and the generous size of the deck fittings. You will always find the ideal position to steer from one of the two steering wheels, and will always find a place for everything in the many lockers available right up to the aluminium sugarscoop. But above all, you'll sleep soundly, rightly confident in the strength of the aluminium hull of your Allures.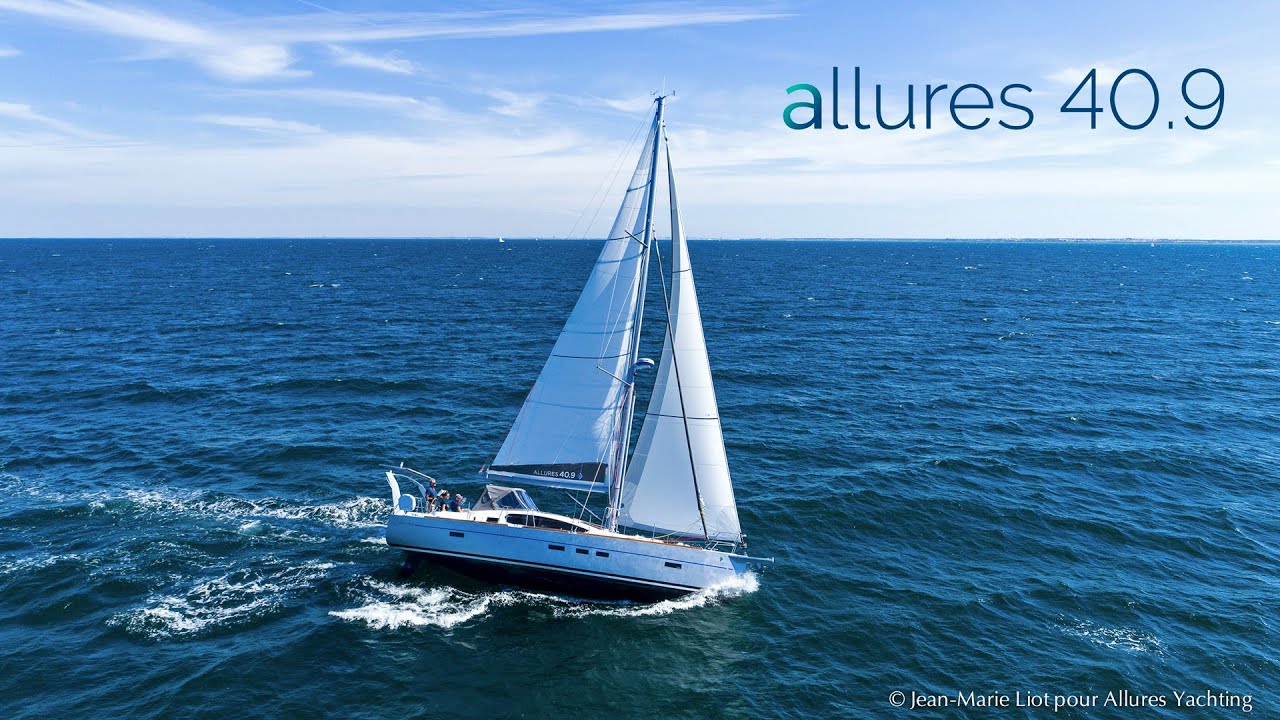 Combining agility and elegance, this boat will easily thread her way at any latitude.
Stéphan Constance
Longueur 12.65 m
Largeur 4.15 m
Tirant d'eau 1.06 m / 2.75 m
Déplacement 10.9 t
Capacité eau douce 330 l
Capacité gas-oil 400 l
Surface de voile au près 82.5 m²
Motorisation 50 CV
Length 12.65 m
Width 4.15 m
Draught 1.06 m / 2.75 m
Displacement 10.9 t
Water capacity 330 l
Fuel capacity 400 l
Sail area close-hauled 82.5 m²
Motorisation 50 HP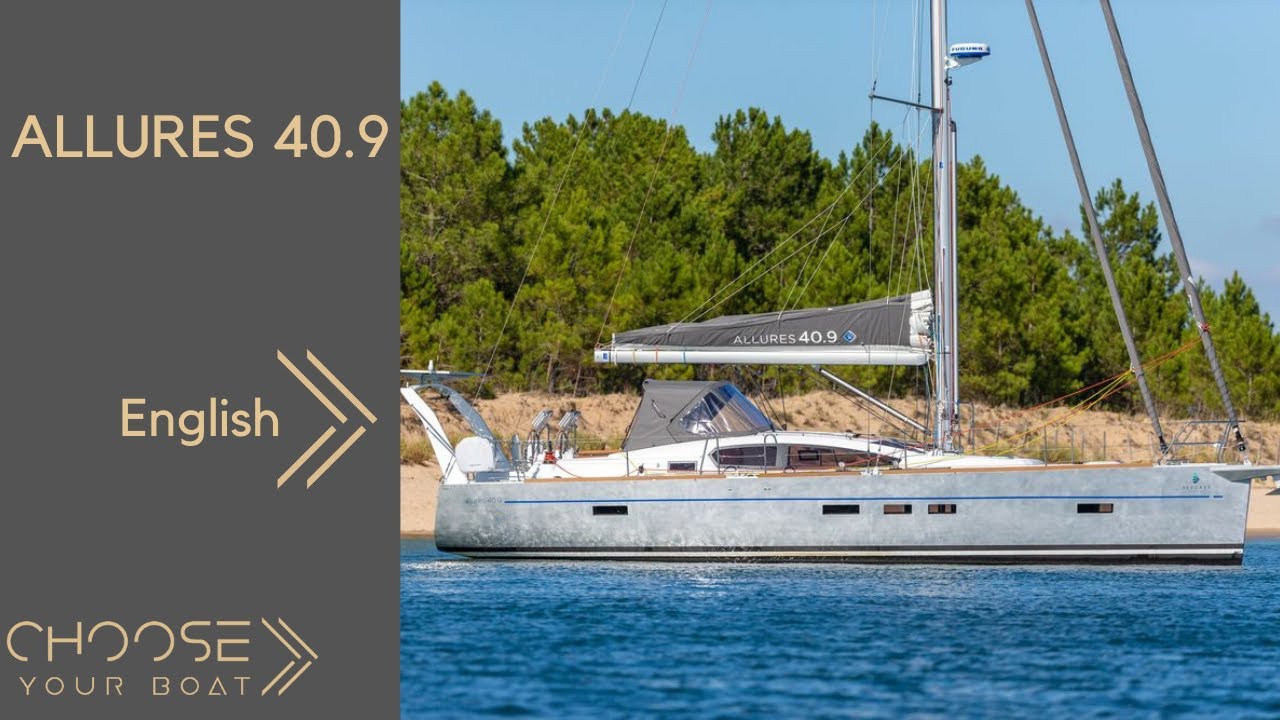 Since its creation in 2003, Allures Yachting has been designed by and for long-distance sailors. It is therefore, a tradition of listening that we welcome you to a shipyard on a human scale where you will feel at home.