To discover the vastness of the world
New flagship of the range, the
Allures 51.9
innovates with its full-beam aft owner's cabin for unmatched comfort. This new model disrupts the codes of the yard also outside with its large cockpit of 6 meters long with sunbath and swim platform for exclusive comfort and a navigation space that can be protected by a hard top to navigate in any security.
This 3rd generation sailboat, following on her big brothers, the Allures 51 and Allures 52, incorporates 15 years of studies by the shipyard and feedback from the owners. She combines comfort, performance, safety and manoeuvrability for a short-handed crew.
What could be better than a magnificent boat which is as functional as she is comfortable, to set off on a blue water cruise to discover the world. The Allures 51.9 is part of the very selective category of prestigious sailing yachts. An ambitious and innovative project that was made possible thanks to the combination of the know-how of our craftsmen, talented designers and of course experienced sailors who share with us their valuable feedback. You dreamed of a sailing boat with unique elegance and performance, a sailing boat whose sharp design would disappear behind its simplicity of use, a sailing boat on which you could live fully in total freedom?
Key elements of the specifications
FROM POLAR EXPLORATION TO THE TROPICS
Centreboard for freedom
--------------------
Twin rudders for stability and control
--------------------
Ergonomic cockpit for long distance.
Deck saloon with panoramic view
--------------------
Interior helm, with good visibility forward
--------------------
Generous storage spaces throughout the boat.
Forward and side windows provide exceptional light and 270° visibility
--------------------
High-end interior design for an enjoyable life on board at anchor and a functional one at sea
--------------------
Large storage capacity for self-sufficiency.
Composite deck for its ergonomics, lightness, insulating properties
--------------------
Wide, load-carrying hull for its form stability and performance
---------------------
Aluminium rear arch to optimize peripherals: antennas, solar panels, dinghy
--------------------
Modern rigging for performance and ease of use.
With the Allures 51.9, designers were given the task of bringing Allures Yachting into the prestigious world of the ocean cruising yacht. If all the functions usually required are found on such a boat in general, and more particularly on an Allures of course, then an increase in length makes it possible to even offer more.
More performance at sea thanks to an increased waterline length. More comfort thantks to a large cockpit and easy access to the side-decks, a large sunbathing area and a retractable bathing platform on the sugarscoop. More protection with an optional rigid bimini to secure the watchkeeper in all condition. And more hergonomics with station grouping all the manoeuvres necessary for sailing with a reduced crew, in particular thanks to the positioning of the winches near the helmsman.
On board the Allures 51.9, the seamanlike nature and the practicality of the fittings compete with the purity of the lines and elegance of contemporary design furniture, initiated by Isabelle Racoupeau. Ergonomics of the different functions, fluidity of movement, and multiple living areas offer a place for everyone, and for every moment :
Large full-width owner's cabin aft

Spacious, comfortable and welcoming saloon communicating directly with the chart table

Friendly U-shaped galley open to the saloon, designed for cooking while under way

Engine room dedicated to technical and engine access

And a saloon modulating 'lounge' with a wide bench and a chart table meridian.
Living on board will be your privilege, because the Allures 51.9 is irrefutably one of the most prestigious yachts. The very high quality of workmanship is enhanced by the extremely generous entry of external light during the day. At night, the lighting is warm to transform your Allures into a protective cocoon. Every day on board is a renewed pleasure, an invitation to continue the journey.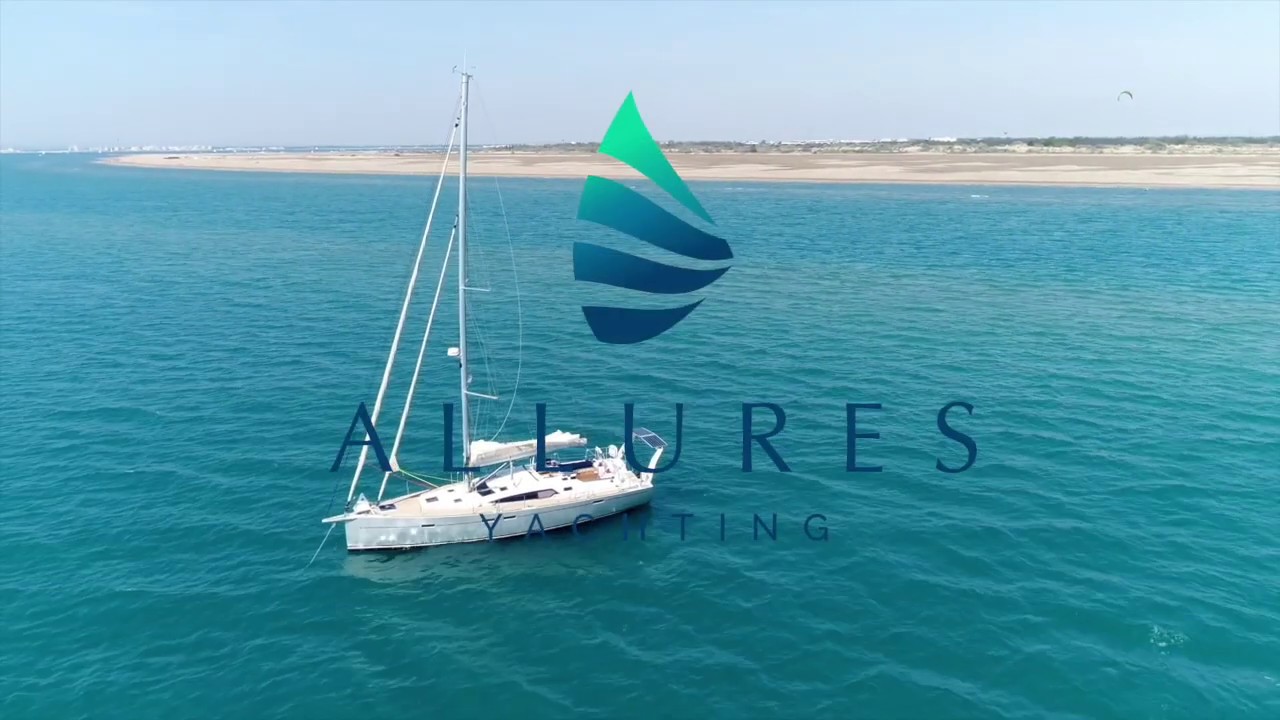 The
Allures 51.9
is an exceptional sailing boat, offering a pure experience at sea and at anchor. This new model jostles the universe of the range Allures Yachting while retaining its DNA: comfort, performance, safety and maneuverability in a reduced crew.
Longueur 15.57 m
Largeur 4.82 m
Tirant d'eau 1.34 m / 2.92 m
Déplacement 18.4 t
Motorisation 110 CV
Capacité d'eau douce 2 X 300l
Capacité gasoil 2 X 350l
Length 15.57 m
Beam 4.82 m
Draught 1.34 m / 2.92 m
Displacement 18.4 t
Engine 110 CV
Water capacity 2 X 300l
Fuel capacity 2 X 350l
The Allures 51.9: for those who are demanding more than just an excellent blue water cruising boat.
Stéphan Constance